SEX TOYS FOR MEN
Sep 12,2022 | RodriguezGloria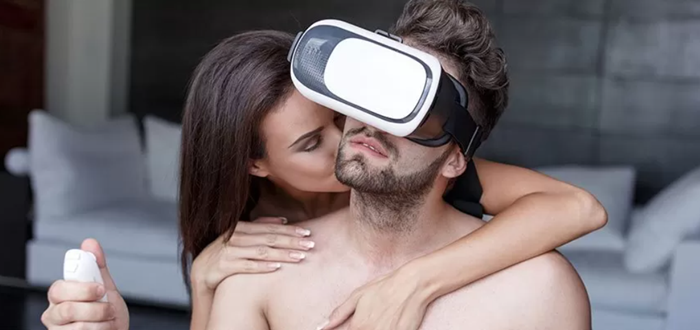 How often do you feel like your hand is just not enough during solo masturbation? Does it often happen that you watch porn and cum, but you lack some X factor? How about spicing your sex life up with some sex toys for men and exploring new pleasures and sensations?
SAVOR MASTURBATION — ADD SOME SEX TOYS
Nowadays, lots of men prefer finding new ways of playing with their genitals. A hand is just an ordinary tool. But we want more. We want to get horny and spray our cum everywhere! And that's where a hand rarely helps to the fullest.
There are numerous sex toys for men that we can use. Masturbation sleeves, manual and automatic masturbators, blowjobs machines, cock rings, vibrators, butt plugs, dildos, etc., are only some of them. Believe me — when you start experimenting with masturbation techniques and toys, you won't be able to stop.
Playing with sex toys is not something you should be ashamed of or afraid of. Just like women, men have some hypersensitive areas of the body that need stimulation so that they can reach mind-blowing orgasms.
And it's not only about the visual when it comes to men. I mean, yes, we easily get turned on by pics and porn videos, but we are not rocks; we have feelings too. Even our bodies can shiver from sexual pleasure. Our dicks don't only get hard and release sperm. They too have lots of super-sensitive nerve endings!
Besides, these sensitive spots aren't only on our penises. For example, some men love when someone plays with their nipples, ears, feet, butts, and so on. For that reason, men can make use of a plethora of sex toys as well — these aren't only for the ladies!
PENIS TOYS THAT WILL FEEL MUCH BETTER THAN YOUR HAND
Now that we have elaborated on the reasons men ought to use male sex toys and explained that male masturbation could be as enjoyable as sexual intercourse with a partner, we can move on to some of the best sex toys for men.
PENIS MASTURBATORS
First of all, if you want to take a break from handjobs, you can buy some of the many male masturbators out there. The most popular are Fleshlight masturbator sleeves. They come in different shapes, with an opening resembling a pussy, an anus, or a mouth.
Besides, there are also automatic male masturbators that are designed to be hands-free. These can offer you superb pleasure by simulating vaginal, oral, or anal sex on your dick.
Many of these toys even have interactive features. That way, you can connect your masturbator and sync it with a computer, cellphone, other masturbators, and other electronic sex toys. You can listen to music and feel the movements of the masturbator dancing in that rhythm. Alternatively, you can let other people edge you and control your orgasm. Finally, some even have virtual reality features, e.g., your penis feels what's going on in the porn video you're watching.
COCK RINGS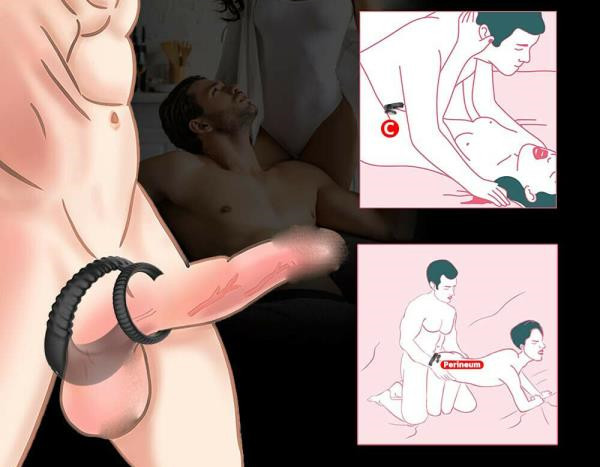 There are two primary types of cock rings: non-vibrating and vibrating. The former are usually used as a means to make your erection last longer. They keep the shaft hard by preventing blood from leaving the penis. However, many men just feel the pleasure in that since the bottom of the shaft is a sensitive part.
Vibrating cock rings, as their name says, send some vibrations through your willy. Those vibrations reach the nerves and create a fantastic feeling. Not only do such rings prolong your erection, but they also cause additional stimulation.
You may also find variations on these two primary models. Some cock rings include the balls as well. So when you cum, your testicles typically retract toward the body. However, a cock ring in question will prevent retraction, which can cause a totally crazy feeling.
Moreover, some cock rings have additional parts that extend to the perineum. There, they stimulate that area — it is highly sensitive for plenty of men since it's near the prostate.
EXPLORE NEW SENSATIONS WITH ANAL TOYS
Now we are coming to a topic that is, for some reason, still taboo among heterosexual men. Due to a lot of prejudice, straight men have been rejecting games that include their anal and rectal area. As for gay men, this is usually not an issue. It's a proven fact that men can feel pleasure from anal penetration, and there's nothing wrong with that.
Why is that? What can be so sexually arousing there? Well, for starters, the anus and rectum have lots of nerve endings, just like a penis. And penetrating them easily and gently may please you. On the other hand, the prostate or male G-spot is there. Lots of men prefer prostate orgasm that can only be reached by prostate stimulation. So what are the male anal toys you can play with?
DILDOS AND BUTT PLUGS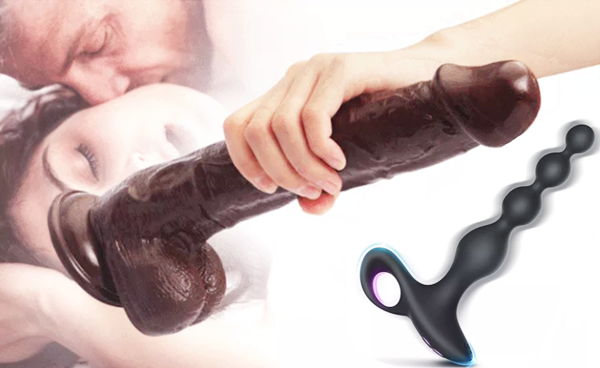 To begin with, we have to separate these two things. They have slightly different uses. Dildos are for thrusting, whereas butt plugs are meant to stay in the ass for some time.
Dildos are usually thinner than butt plugs. They look like bars, rods, or sticks. Now, anal dildos typically have a broader base made to prevent them from getting lost inside the rectum. So if you love the feeling of thrusting something in and out of your ass, then anal dildos are the right choice. They are made from different materials — rubber, metal, glass, silicone, etc., so choose the one that you feel most comfortable with.
However, butt plugs are not usually used for that kind of dynamic penetration. Some people become horny and feel pleased by merely having something up their butts. That's what butt plugs are fantastic for. Their bottom parts are wider, while they're more narrow at the top. Thus, you can shove one up your ass, put a masturbator on your cock, and just enjoy yourself without touching anything.
VIBRATORS AND PROSTATE MASSAGERS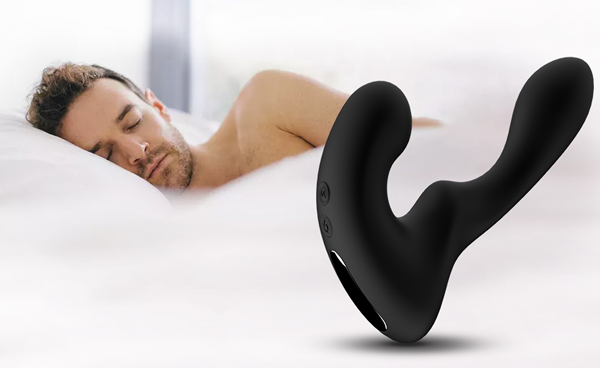 These are much like dildos and butt plugs, just vibrating. It's not surprising that you can reach much more intense solo orgasms with male vibrators than with dildos. Not only can you penetrate your ass by thrusting or inserting something, but you can also enjoy the tickling sensations made by the vibrations.
As for prostate massagers, once you try them, you will never want to masturbate without them again. They usually have a specific curved shape. You have to insert one into your hole, and the curved part should reach your G-spot. Then, you turn it on, and the terrific prostate massage starts. A lot of guys say that you don't even need to touch your cock as this kind of stimulation leads to prostate milking. And the orgasm is much more intensive than if you were merely to jerk off.
ANAL BEADS
These are a bunch of balls of different sizes lined along a string that can be either rigid or flexible The primary aim of anal beads is to warm up an anus for anal play. While you put these balls in your butt one by one, your tiny butthole will continuously have to open and close, which will, aside from stretching it out, cause some fantastic sensations!
TRY SOME SEX TOYS FOR MEN — YOU WON'T REGRET IT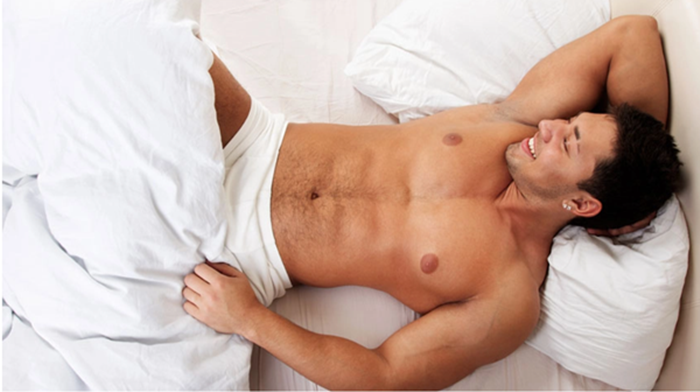 There are many benefits of masturbation, and we should not fret from it. Some of them are related to health, while others are pure satisfaction and entertainment. But masturbation can be far more creative than just stroking your dick or fingering your ass! So don't hesitate to include some toys in your play!
Just bear one thing in mind — You must learn how to use men's sex toys and how to clean them properly. Using them without lubrication or not adequately cleaning them can cause serious health issues. Stay safe, and enjoy!
Comment